12-05-2016, 11:09 PM (This post was last modified: 12-05-2016, 11:12 PM by Swift_Assassin.)
Not really. I just went to this link
https://m.apkpure.com/fate-grand-order/c...om=details
and downloaded it on my phone.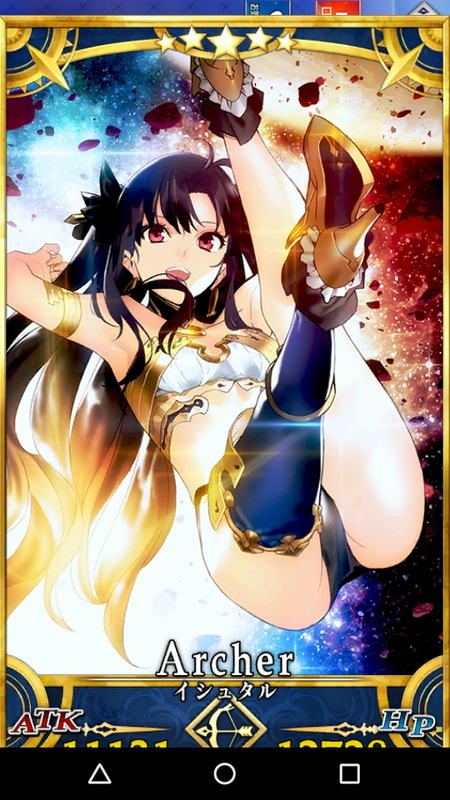 Okay, this turned out a bit bigger than I expected, but. The first image is the final Ascension picture of Illya, specifically the one from Fate/Kaleid Liner Prisma Illya, as they had an event a few months ago to coincide with the new season. The next two is Ishtar, who took Rin's body. The next area they are adding for story is Babylonia, featuring Gil, and Ishtar and him don't get along. The first is her first ascension, and the second is her last ascension. The next one is my current team, also my strongest servants. First is Ishtar, then Jack the Ripper(Assassin), then the blank support slot, then Saber with her last ascension picture, Chloe von Einzbern(Archer) who for some reason isn't set to show her last Ascension picture, then Illya(Caster). The small picture under Rin is a Craft Essence, which can be used to buff certain attacks, or other things. Hers is Zelretch, who boosts the Noble Phantasm gauge to 80% at the start. The last one is me running the exp card mission, as today it's Saber and Rider, and they are weak to Archer and Assassin respectively.
Oh, yeah. Rin, Illya, Jack, and Saber are all 5 star servants, which are super super rare. Rin and Illya are only able to be summoned during certain events. Chloe is considered a welfare servant, because, although she is a 4 star servant, which is super rare, if you beat the Prisma Illya event, you got her for free.