Man, its been a while since I have been on these forums. I was on here back in like 2003 - 2005 and had a great time doing some RPing. I see that there is a fairly active, small community here which seems very cool. I looked a bit at the FETO game which seems interesting and I might give that a try. I am interested in getting back into some RPing, so I might hop into the Insurrection world (seems to be the only one going). What happens on the Skype chat, just more RPing? Anyways, this place has always been a good memory, maybe I'll get back into it this time.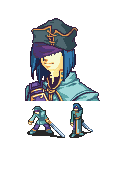 Some Really Old Animations
Character: Blind ?????