Hello everyone, I am Jyro. I would like to show people a game that I have been making for quite some time now. Of coarse, it is a Fire Emblem based game, and it is
not
like ones you have seen before. I have about 6 years of programming experience with a application called Game Maker. I know the language inside and out and have been undergoing the programming of a very in-depth Fire Emblem engine. As a show-and-tell I have uploaded the game and would like to know what everyone thinks.

Version 0.1:
File Size:
5.28 MB
GM Version:
GM6
Vista Compatible:
No
Changes Screen Resolution:
no
Screenshots:
1
|
2
|
3
|
4
|
5
|
6
|
7
|
8
|
9
|
10
|
11
Download (.zip)
Download (.rar)
Version 0.2:
File Size:
2.35 MB
GM Version:
GM7
Vista Compatible:
Yes
Changes Screen Resolution:
no
Screenshots:
1
|
2
|
3
|
4
Download (.zip)Download (.rar)When opened, press F1 to read the game info.
What you see here is all by me, the programming that is. All sprites and music goes to Intelligent Systems at Nintendo. However, in the near future I will have some aspects of the game done by the help of a little team going on for the game. I have the basic battle scenes done, and the map screen with all the movement. It will stop after the map characters reach their destination and you will have to go back. The map and battle room are not connected yet, this is just to show you what I have so far. As well, the map tileset is all 8-Bit and simple. The main room you see at the start is what it will soon look like.
The battle scenes have a change to them that will potentially make this games battle system more sweeter then the GBA games. When you equip a different weapon (ex. between iron sword and silver sword) the weapon they will be holding will always look different. Each weapon has its own battle sprite and it is draw separately into the animation. With the GBA battle sprites you might think would be hard, what with all the motion blurs of the weapons. Well, I have that covered. I have an effect that blurs the weapon when it needs to in the animation.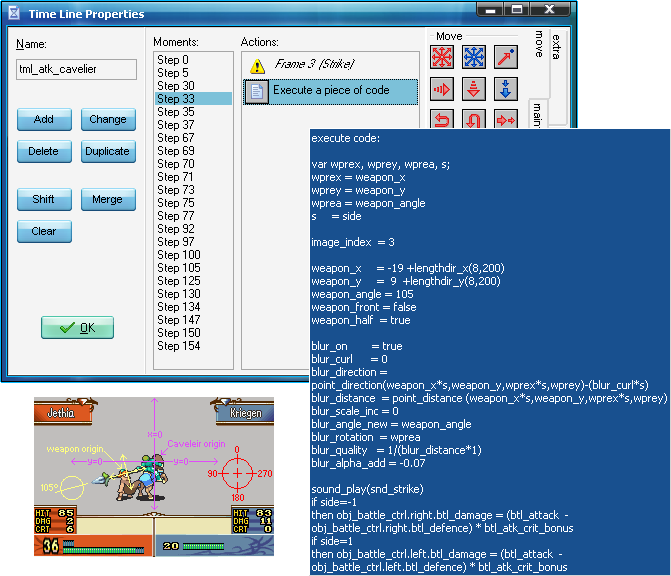 Cavalier sprite properties
Weapon sprite properties
The music in Version 0.1 are chiptunes and are played with Shaltif's Xtreeme Music and Sound DLL. The problem is, the chiptunes might slow down the FPS on a slower computer. It bothers me allot when is doesn't play at 60 FPS on the map. Luckily the battle scenes are set at 30 FPS, so there shouldn't be a performance drop there. There is a problem with the chiptunes however. It will all of a sudden stop the tune at a certain point while you are playing. I have to look at the scripts allot further to make it loop properly, but for now just enjoy the real music from Fire Emblem 5. For Version 0.2 I took out the chiptunes and the music entirely just for now, it made the file size smaller and it will run better.
So all in all, tell me what you think. Any advise? Critisism?
And if you are interested, you may help out as much as you would like. I have a general story line that I would be following, but sprites and characters are open for requests. As well as weapons, you may draw any weapon you like, and it takes me 2 minutes tops to throw it into the game.
Thanks for your time everyone, I look forward to you comments.
Updates:
I am planning on getting the map system more completed soon. I am starting with adding the menus and character actions after they move. Here are a couple of screen-shots do far for Version 0.3